As the seasons turn, so too does our menu.
The sun may be shining but it is without a doubt that the temperature is dropping, and the leaves are turning vibrant shades of red, orange and yellow. As we start to dust off our scarfs and pack away our flip flops, our eating habits tend to turn to heartier, warming food to comfort us during the transition into the cooler months.
Across the country, farms and orchards are bustling with activity, with September being the prime time to harvest and gather crops before the harsh cold weather kicks in.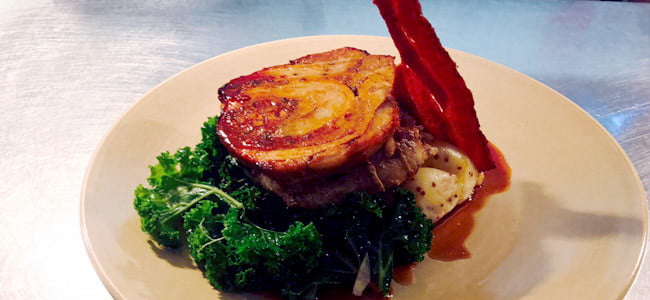 To mark the turn of the season, we have launched our new Autumn Menu, created using the finest ingredients from our fantastic local suppliers.
Our experienced team of chefs have taken advantage of the delicious seasonal flavours and produce the local area has to offer, to create tasty new autumn, kids and gluten free menus, we know our customers will love.
When we asked our Head Chef, Jay, what his favourite dish is from the new menu, this is what he had to say…
"My favourite dish is most definitely the slow-roasted English porchetta. It's such an indulgent dish to warm the cockles of your heart in the autumn season, with gorgeous hints of apple and sage flavors coming through in the succulent pork."
Our delicious English porchetta combines stuffed pork belly with wholegrain mustard mashed potato, buttered greens and a red wine jus; the ultimate hearty British dish to enjoy whilst catching up with friends and family, before tucking into one of our tantalising desserts.
There's always room for dessert… and that's a good job as we have a variety of sweet treats to tempt you with.
What takes your fancy? Warm chocolate brownie drizzled with salted caramel sauce or maybe our British cheeseboard with a selection of local cheeses, homemade chutney and artisan crackers, for those of you with less of a sweet tooth.
We also offer incredibly yummy gluten free options including blackberry Eton mess, to ensure everyone at your table can enjoy their guilty pleasures.
Don't forget, as well as our new menu, we also have plenty of offers throughout the week, including our Mid-Week Menu, Gin Wednesday's and our Bubbles in the Barn packages…