Our Head Chef, Jonny, loves nothing more than creating seasonal dishes using the freshest ingredients for our menus. With the colder weather upon us, everyone loves to dive into a bit of comfort food, and nothing brings comfort more than a good pud. We asked Jonny for one of his favourite recipes, so we could share it with you, and he has not disappointed…
Baileys and White Chocolate Cheesecake
Makes two 24-inch cheesecakes (for those large family & friend gatherings)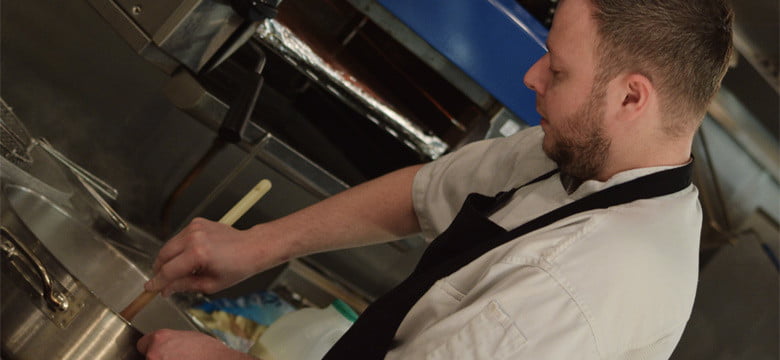 Cheesecake Base Ingredients:
400g Digestive Biscuits
200g Butter (melted)
Cheesecake Ingredients:
1 kg White Chocolate
1 kg Soft Cheese
1 x Vanilla Pod
200ml Water
100g Caster Sugar
350 ml Double Cream (whipped)
6 Gelatin Leaves
100ml Baileys
---
The Method:
For the base…
Blitz together the digestive biscuits and melted butter using a food processor, until combined.
Split the biscuit crumb mixture between two cake tins and smooth out to make a 'clean' base.
Chill in the fridge for approximately 1 hour.
For the cheesecake mix…
Place the caster sugar and 200ml of water in a pan and place over medium-high heat, to slowly reduce mix into a sugar syrup (it should reduce to about half the original amount – make sure you continuously stir).
Infuse the sugar syrup with the vanilla pod for 5 minutes.
Meanwhile, gently melt the white chocolate, either in the microwave or place in a bowl and sit above a pan of boiling water and simmer gently (ensuring the water doesn't run dry), until the chocolate has completely melted. Remember to stir occasionally.
Dissolve the gelatine in cold water as per instructions on the packaging.
Remove the vanilla pod from the sugar syrup and add the softened gelatine to the syrup and mix well.
Allow the melted chocolate to cool a little, then add to the syrup mixture and pour in the Baileys (mix well).  Top Tip: Add the syrup quickly so the mixture doesn't split. If it looks like it is beginning to split, put back over the heat and continue to mix until smooth.
In a mixing bowl, fold the soft cheese into the whipped double cream and then fold into the white chocolate/ syrup mix.
Split the mix between the two base tins and smooth over the top of the biscuit crumb, with a pastry knife to give a clean look.
Allow the cheesecakes to set in the fridge for 1 ½ hours before serving. Then, bon appetit!
---
Remember to book a table with us at The Duke to sample even more of Head Chef Jonny's homemade desserts.