Behind every successful pub you will find a darn good Chef! Introducing our newly appointed Head Chef, Jonathan Long.
Here at The Duke our Head Chef, Jonathan Long, and his team have been squirrelling away, hard at work, putting the finishing touches to our upcoming Spring Menu.
With this in mind, we thought it would be the perfect opportunity to get to know Jonny a little better and so before service commences, we have taken the opportunity to ask him a few questions…
---
What was your dream job growing up?
Footballer, Rockstar, Olympic athlete… until I realised that girls really love food!
What inspired you to become a chef?
Food culture was massive in my family. My mum would always be preparing something delicious and my grandad and uncles were green grocers, so eating fresh and seasonal is in my blood.
So how did it all start?
I started out helping my cousin in a gastro pub, after that I went to get formal training at Tante Marie in Woking, but often found myself back at the pub over the weekends and gaining more experience from this hands on approach to the industry.
Is there an achievement you're most proud of during your career so far?
Becoming Head Chef at The Duke, of course! Becoming a Head Chef has always been my goal. Learning from my head chefs over the years and the passion and leadership they showed and level of calm under pressure has always been something I have aspired to. To be able to instil my passion for food in others is something I am very proud of.
Who's your favourite celebrity chef and why are they your favourite?
Massimo Bottura – His passion for produce and sticking to his beliefs are a real inspiration, his restaurant is top of the list for me to visit.
Tom Kerridge – I was treated to a meal at the Hand & Flowers last year from my girlfriend and was blown away by the ability to turn simple pub classics into something truly memorable, my favourite restaurant so far!
What is your favourite meal when you're having a relaxing evening at home?
Something someone else is cooking! Being a chef is full on and I love it, but it's rare to eat something you haven't cooked yourself. Even the simplest dishes from friends and family still inspire me, everyone has their own way with food and I find that fascinating.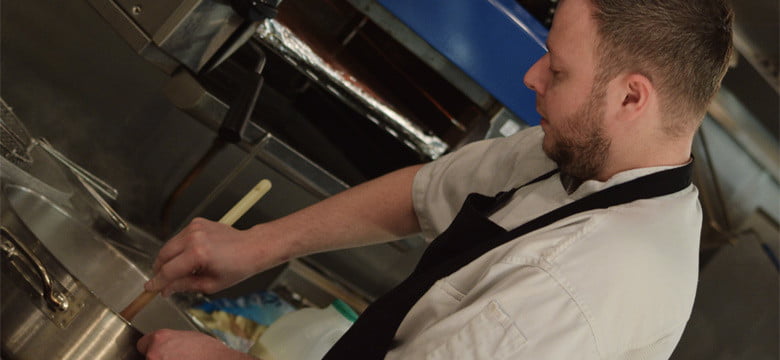 What's your signature dish you use to impress people? And why do you think it goes down so well?
Herb crusted rack of lamb, served pink, with pea and mint potato cake, honey glazed carrots and red wine jus. It's the perfect marriage of flavours with a bit of restaurant flare, but kept rustic and homely at the same time.
Do you have a 'top tip' that you can share with us?
Resting…  the meat, not the chef! It's so important to rest meat and fish. It must have time to relax after being cooked. I always try and rest whatever I have cooked for at least half the amount of time its taken to cook, if you can rest the longer the better.
Tell us something about you that not many people know?
I spent a year living in Spain. I cycled by day and tried out the all the local cuisine by night. Looking back at the pictures I probably should have cycled a bit more, nevertheless Spanish food has always had a special place in my belly… I mean heart!
Come and give Jonny's creative and delicious menus a try; click here to book a table.