It's no surprise that The Duke is busy all day, every day…
And it goes without saying, this is due to the incredibly hard-working and strong teams, both front-of-house and back-of-house, who ensure our great reputation remains so.
Katie, our Pub Manager
We are super proud of Katie and her passion for maintaining a tight and happy ship at The Duke.  Portraying strong leadership qualities and maintaining a motivated team with high moral, especially during the busy summer and festive seasons are just a few of the reasons why she makes such a terrific pub manager.
And of course no successful pub would exist without an incredibly talented Head Chef, who not only can design the perfectly balanced and inspiring menu, but can also lead his team.  You wouldn't want to experience the temperatures inside a kitchen on a hot summer's day during service!  Enter stage right, Jay and his awesome team of chefs who between them ensure every dish leaves the kitchen cooked to perfection!
Let's get better acquainted with Team Duke!
We asked the team to let us into their lives and 'open up a little' about what their perfect day would consist of, plus what their favourite dish on the new summer menu is (because doesn't everyone ask this question?!) and why: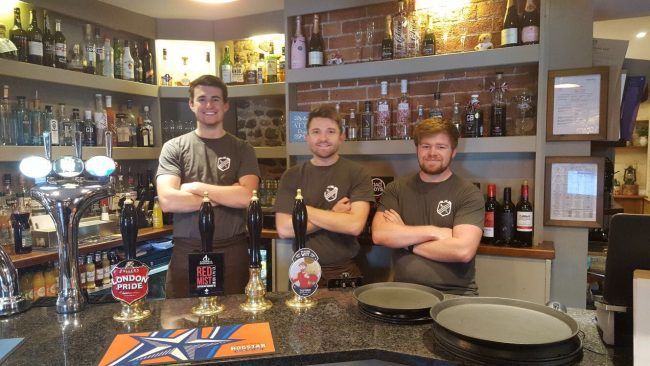 Nick, Barman
My perfect day would involve me playing football with the local team that I am part of… scoring lots of goals (obviously!) followed by relaxing with the team over a few cold bevvies!
Without even thinking about it, the hands-down best dish on the menu in my eyes is consistently won by a British classic…the Burger.  The meat is always cooked to perfection and there is no need to add 'extras' as it already has everything it needs!
Tom, Waiter
Best dish on the menu for me has to be the sirloin steak, because our butchers are top-notch and the quality is incredible.  I also happen to be a huge fan of the blue cheese sauce that accompanies it… mmm….it's making me hungry just thinking about it!
My perfect day would entail driving down to the coast, taking photographs and absorbing the tranquility and scenery in front of me (it's a great way to unwind).
Jay, Head Chef
My favourite dish on the menu, you'll be surprised to know, is the halloumi fries…why you ask? … because they are REVOLUTIONARY!!
My perfect evening would be a BBQ in the garden with my wife and kids, a cold beer in hand, music playing, the sun shining and watching my family laugh and play (and filling their little tummies with my awesome BBQ food!).
Hamish, Waiter
You've got to love the classic pie! What I love most is that the filling is incredibly generous and full of succulent chicken topped with a thick, crumbly home-made pastry. This tastes even better when paired with a pint of the Tilford Brewery Rushmoor Ripper!
My perfect evening would entail sitting at my local cricket club with a cold pint in hand… and just chilling!
Make the most of the British summer time and our great selection of menus, from the Summer Menu to the Garden Bar and Grill, the daily specials to the perfect pairings found in our Summer Drinks List.
We have some great dining areas for larger parties if you are celebrating or just catching up and with our great kids adventure park, crayon and drawing packs and kids menus, we are always a winner with the little ones too!
To avoid disappointment, book online now.