Here at The Duke, we love hosting events in our Barn, whether this is a wedding reception, surprise birthday party or a corporate event, it's a terrific space to hire!
Following on from the success of our Festive Workshops last year, we have rolled out a terrific schedule of workshops across the course of the year so that there is always something to look forward to, whether it's an evening of wine tasting, a food and drink pairing or learning a new craft.  Perhaps it's an ideal gift for your nearest and dearest or just a good excuse for a night out with a difference, we have paired each experience with a two-course meal to ensure you enjoy great value whilst learning something new.
One of our upcoming craft workshops sees the return of florist extraordinaire, Stella Doble, who's workshop sold out within days last year with her festive wreath-making (which will be running again in December). This time Stella will be teaching you how to create stunning hand-tied bouquets, an incredibly useful skill for special occasions and thoughtful gifts, as well as imparting incredible knowledge and tips on styling beautiful everyday flowers and ensuring you get maximum enjoyment from your blooms.  We caught up with Stella for an enjoyable coffee and cuddles with her youngest offspring to find out a bit more about her: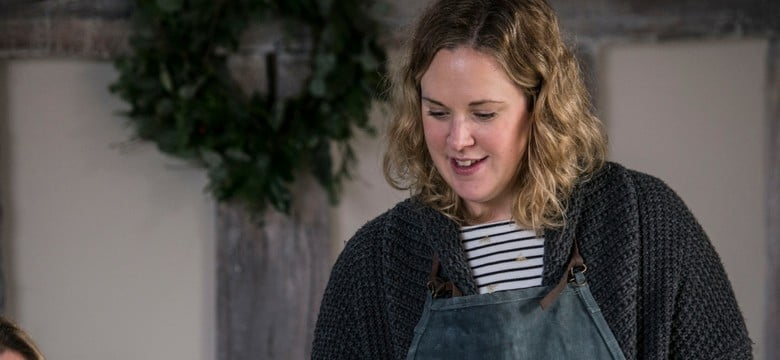 How long have you been in the floristry world and where did you train/ learn your trade – tell us a bit about your 'story'?
I have been a florist for nearly 6 years now and have never looked back, I can truly say that I love my job!  I trained at Merrist Wood College, Guildford and also with Tallulah Rose Flower School, Bath.  Prior to the world of floristry, I worked for 10 years in visual merchandising; designing and dressing windows and in-store layouts for big brands such as Nike and Gap.  After a decade in the retail industry, I longed for a different and more natural world, closer to home and had always been curious about floristry.
I took a brave decision to leave my career behind and embarked on my new adventure as a trainee wedding florist.  Having gained incredibly valuable experience I then set up and established Stella Rose Flowers; a very busy summer of weddings and events followed, where I barely had time to draw breath.  In Feb 2014 we were lucky enough to welcome our first baby boy into the world and more recently, our second boy.  I feel tremendously fortunate to have found success in floristry and to have forged such a successful business from it, as it's something I absolutely love and can still be balanced/ juggled around being a mum (although the balance/guilt fairy still seeks me out every now and again!).
I suppose I specialise in providing beautiful flowers for Weddings and Special Events, but teaching my craft has become a fortunate and enjoyable second string to my business. I love to teach others and revel in watching people learning a new skill, growing in confidence, and creating something they are super proud of.  My business has grown organically via some wonderful avenues and I'm currently in the early stages of setting up other aspects to expand the business further including a flower school, props hire and a cutting patch of blooms at home in the garden.

What has been your biggest working achievement to date?
I was asked to style Goodwood Estate in conjunction with The Real Flower Company for a Brides magazine who were hosting a luxury wedding showcase. An incredible guestlist was invited to enjoy a delicious afternoon tea spread, surrounded by our gorgeous blooms.  The event, and my flowers featured in a double-page magazine spread, which was wonderful and a real 'pinch-me' moment.  More recently, I was lucky enough to dress a beautiful and well known Stately Home for Christmas, which is also a popular and stunning wedding venue.  It was such a beautiful backdrop in which to create some incredibly beautiful festive floral displays.
Can you tell us something interesting about yourself?
One of my first ever jobs was as a Buying Assistant for a vintage clothing shop on Carnaby Street, London. I travelled to New York twice a year searching for beautiful vintage pieces in dusty old warehouses by day and partying all night long, usually wearing a fabulous item of clothing picked up that day! It was awesome and experience I will never forget.
If you were to host a dinner party, which 3 celebrities (past or present) would you invite, and why?
Firstly, I love a dinner party, we host many in our household and dressing the table is clearly my favourite part!! So, my dinner party guests without hesitation would have to include Adele, to not only wow us with that incredible voice of hers, but I know we'd also have such a giggle together.  Michael McIntyre would be my second choice, hilarious and effortlessly kind and funny. Last, but definitely not least my final dinner party guest, who would obviously sit next to me, would be Brad Pitt… I'm sure I don't need to justify this choice; just because!
Who is your biggest influence in business and where do you tend to seek your inspiration from each season?
I think my biggest influence in how to run a business comes from my Dad; he was successfully self-employed his entire life and has always taught me to be considerate and kind to your customers, no matter what the situation. With regards to where I find my inspiration with flowers and design, I'm a big fan of Instagram for keeping in touch with my fellow counterparts in the floral industry. I'm inspired every day by florists all over the world, but I think at the moment the move towards a more sustainable, green and environmentally friendly floristry world, for me, is very important.
What will customers learn on your upcoming workshop on Tuesday 15th May?
Tickets are now available here, to take part in my latest workshop, which is taking place at The Duke. The workshop will focus on how to create floral displays along with top tips plus, they will learn the essential skills of floristry so they can make their own beautiful hand-tied bouquets confidently (and will take home on the day) with a view to then making their own bouquets.  On the day, we will be using a pretty selection of spring flowers including tulips, sweet peas, herbs, ranunculus, garden roses and plenty more. I'm often asked how to style everyday flowers in the home or how to present a gift of flowers and this is the perfect experience for someone looking to learn one of the true basics of floristry.  The workshop will run for 3 hours before we finish up for a delicious two-course lunch.

What do you think will be the most priceless skill they come away with?
It will vary depending on their skills and interests, but in the workshop we will cover everything you need to know to get you started, including where to source flowers, how to condition/care for the flowers, the art and top tips of the hand-tied bouquet, how to wrap/pack, display options etc. This course is aimed at complete beginners and so there is no need for any previous experience.
What are your most favoured flowers to have in your home, both as an everyday display in the kitchen and as a treat?
At the moment I always have pretty spring flowers in our home, as I love to reflect the season we are in, but bright tulips and ranunculus are my absolute (personal) favourites. I also love to spend time in my garden and gather and forage wherever possible so currently, I'm enjoying snipping our spirea and early blossom on branches.
Other craft workshops taking place at The Duke throughout the year include designing and creating your very own sterling silver jewellery (both rings and bangles), which are very similar to the popular Pandora style of jewellery to willow-weaving your own chicken and/ or festive reindeers and angels.
---
Spaces are limited on our workshops to maximise enjoyment and learning, so book early to avoid disappointment. For more information, keep an eye on our Events & Offers Page.