As part of a family that is passionate about the authentic pub experience, we believe that being part of the local community is key to achieving this.
That's why we like to support the local community; helping to promote and support local events, fundraising for local charities and building relationships with fellow groups, teams and businesses in the area…
Local Charity
Here at The Duke of Cambridge, we are supporters of the Farnham Hedgehogs, helping raise funds for the important work that they do to support the local community who are in need of financial support. Benefactors include individuals, single-parent families, local charities and much more.
A registered charity, established over 55 years ago, The Hedgehogs is a 50-strong team whose mission is to benefit the local community of Farnham and its surrounding areas.  Monies are raised through the team's tireless efforts throughout the year in organising and managing social events for the local people; every single penny is then distributed out to those in need.
Squash 57 Leagues and Tournaments at The Bourne Club
The Duke is proud to sponsor the Squash 57 leagues and tournaments at The Bourne Club again for 2018 and 2019. This growing sport is building momentum and at The Bourne Club, they are delighted to now have introduced a women's league.
Squash 57 was formerly known as racketball and sees players use a bigger racket and a bigger, bouncier ball which producers a slower bounce, allowing players a bit more time to get to the ball and enjoy a longer rally.
If you are interested in discovering why Squash 57 is gaining in popularity, please contact Gary Hales, Bourne Club's Professional Level 3 Squash 57 Coach for a free taster session when you quote 'The Duke of Cambridge':
Mobile: 07854 519 797 / Email: gary@thesquashcoach.co.uk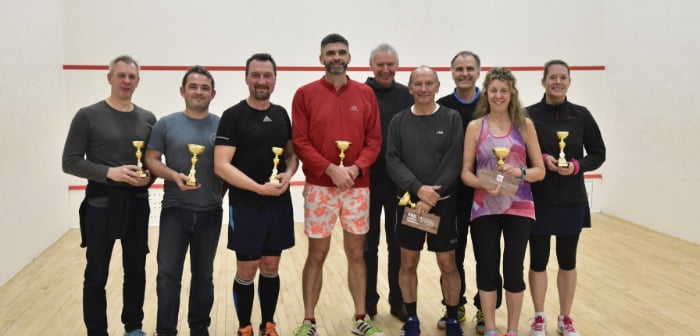 Group photograph of the finalists of the Bourne Club's 2018 Squash 57 Tournament
We are blessed to be surrounded by stunning Surrey countryside, perfect for exploring throughout the summer months, or even with a pair of wellies in the winter. Here are a few of our top pics for days out, whatever the weather…
The Sculpture Park
The world's largest all year sculpture exhibition with over 300 artists showcasing 600 sculptures, almost everything is for sale and as a result the exhibits are forever changing so there is always something new to discover.
www.thesculpturepark.com
Birdworld
One of the largest bird parks in the country. The 26 acres of landscaped park and gardens is home to over 800 birds and 180 species from around the world. The park also is home to the Underwater World aquarium and the Jenny Wren Farm.
www.birdworld.co.uk
Frensham Little Pond
Frensham Little Pond and common is a sanctuary for both wildlife and people. It's a great place to unwind and take life at a slower pace. Tranquil pond, wide skies and open views across prickly heathland – just waiting to be explored…
www.nationaltrust.org.uk
Rural Life Centre
Pleasantly distributed over ten acres of field, woodland and barns, their exhibits include a large number of implements and devices marking in excess of 150 years of farming. Many aspects of village and rural life are displayed in realistic individual settings. There is so much to explore!
www.rural-life.org.uk
Tilford Woods Lodge Retreat
Located right next to the Duke of Cambridge is the highly regarded Tilford Woods Lodge Retreat. This is the perfect location for peaceful holidays in Surrey providing you with breath-taking log cabin accommodation surrounded by tranquil countryside and with easy access to the Duke of Cambridge throughout your stay.
This ensures that you won't have to worry about driving. Have a drink or two and then take the short walk back to your beautiful accommodation which is designed for all seasons featuring under floor heating, double glazing and central heating to ensure a warm and cosy environment at any time of the year.