Children's Play Area in Farnham, Surrey
Our one-of-a-kind kid's playground was designed and built by renowned Flights of Fantasy. This impressive and environmentally friendly play area was inspired by adventures around the River Wey through Tilford.
The children's play area has bridges, a rowing boat, and a lookout tower. An impressive slide, balance bars and stepping ducks! It will keep the children entertained for hours whilst you enjoy a well-deserved drink in our large beer garden.
It makes the Duke of Cambridge the ideal family-friendly village pub and restaurant – serving freshly created and locally sourced food from our kitchen 7 days a week. Our Garden Bar & Grill will be serving food and drink subject to the Great British weather!
All mains are served with skin on fries. Upgrade to your choice of classic side for 1.00
Free range maple cured hot dog, brioche roll, yellow mustard, pickle and sauerkraut relish, onion and paprika crumb £13.95
Dry aged beef burger, aged for 28 days, 'Kraft' cheese, crispy onions, signature house sauce (*gf) £14.95
Plant-based burger, vegan smoked cheese, spiced tomato chutney (ve) £14.95
Grilled Norfolk chicken flatbread, harissa yoghurt, smacked cucumber, sumac onions, pomegranate seeds, fermented red chilli, za'atar £15.95
Grilled shell on tiger prawns, extra virgin olive oil, fermented red chill, confit garlic, fresh garden herbs (gf) £16.95
Grilled Cornish lamb flatbread, harissa yoghurt, smacked cucumber, sumac onions, pomegranate seeds, fermented red chilli, za'atar £17.95
Add Classic Sides
Beef dripping skin on fries, rosemary and thyme sea salt (gf) (**) £3.75
Pitted Nocellara olives, served on crushed ice (gf) (ve) £3.75
Mixed quinoa and fennel salad, citrus and tahini dressing, toasted seeds (gf) (ve) £4.95
Coronation slaw, sour pickled mango, coriander shoots (gf) (v) £4.95
New season potatoes, truffle mayo, spring onion and chive (gf) (v) £4.95
Beef dripping skin on fries, freshly grated Parmesan and truffle mayo (gf) £4.95
Heritage tomato salad, feta, sumac onions, tarragon vinaigrette (v) (gf) (**) £4.95
Young Diners Menu
All served with fries
Baked flatbread, tomato and herb sauce, mozzarella (v) £6.50
Grilled chicken burger (*gf) £7.25
Breaded plaice fillet (gf) £7.25
British beef cheeseburger (*gf) £7.25
Marshfield Ice Cream Pots
Vanilla, Chocolate, Strawberry, Plant-Based Salted Caramel £4.25
Champagne and Sparkling:
Fitz Sparkling NV, Sussex 8.5, 41
Pommery Brut Royal, Champagne 67
Pommery Brut Rose, Champagne 79.5
La Folie Sparkling Rose, Mirabeau, Provence 11.30, 37
Rose:
Miraflores Rose, Domaine Lafage, Languedoc Roussillion 38
Red:
Catena, Vista Flores, Malbec 2019 11, 15, 46
Tempranillo Garnacha, Finca Valero 6.8, 8.2, 23
Lorosco Reserva Cabernet Sauvignon 7.3, 9, 26
Huntsman Shiraz, Journey's End, Stellenbosch 36
White:
Organic Macabeo, Bodegas Verde 29
Picpoul di Pinet, Cap Cette 8.5, 11, 31.5
Weather Station, Sauvignon Blanc, Journey's End, Stellenbosch 39.50
Craggy Range Kidnappers Chardonnay – bottle only
Vodka:
Ketel One Vodka 4.2
Rum:
Barcardi Carta Blanca 4.2
The Kraken Black Spiced Rum 4.5
Gin:
Chase Pink Grapefruit 4.9
Hayman's London Dry Gin 4.6
Silent Pool Gin 4.8
Thundry Hills
Whisky:
Jack Daniels 4.2
Johnnie Walker Black Label 4.1
Cocktails:
Aperol Spritz 11.5
Pimms 5.2
Mocktails:
Elderflower Spritz 8.5
Draught:
Peroni
Cornish Orchards
Meantime IPA
Guinness
Bottles:
Cornish Orchards Pear 5.6
Cornish Orchards Blush 5.6
Corona 5.2
All Double Dutch Mixers
Bottle Green Elderflower Sparkling Presse 3.6
Appletiser 3.6
Eager Apple Juice 3.5
Eager Cranberry Juice 3.5
Eager Grapefruit Juice 3.5
Eager Orange Juice 3.5
Eager Pineapple Juice 3.5
Eager Pomegranate Juice 3.5
Eager Tomato Juice 3.5
Draught Coke, Zero and Lemonade 4.5
Make a Day of it in our Pub & Restaurant
If you're looking for a memorable dining experience after wearing out your children on the play area, come inside to unwind and indulge in some quality time with friends and family. Make those wonderful memories by booking a table in one of our following areas: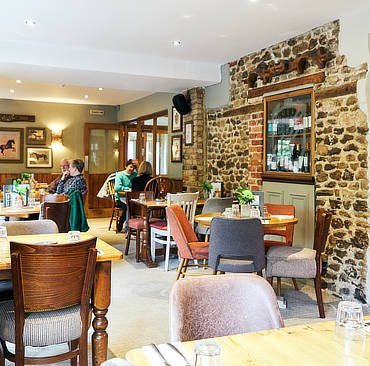 The Pub
Cosy nooks and charming corners make for a welcoming setting in this traditional English Pub. The heart of our pub is a winner all year round for hearty breakfasts, leisurely afternoon tea or seasonal suppers with friends & family.
The Barn
It's hard to find a better spot for a Great British beer garden, set in the countryside with a children's play area and its very own bar & grill.
The Garden
Its harder to find a better spot for a great British beer garden than set in a garden with a children's play area and its very own bar & grill.