Here at The Duke, and at each of our sister properties, we take raising money for local charities seriously. Not only do we like to raise much-needed funds for those that are not able to get the exposure that larger charities can afford, but we also like to help strengthen their voice through raising awareness not only of events they may be hosting but also to highlight how effectively the money raised is being spent. And as the saying goes, charity really must begin here at home.
So, it is with great pride that, commencing 1st July 2018, we officially confirmed our Annual Charity of the Year to be the Farnham Hedgehogs, whose mission is to help local people in need.
What does that mean? Well, they raise funds to help local Farnham people that could benefit from a helping hand, whether that be individuals, families, single parents, the disabled and other local organisations, schools or charities. A registered charity that has been established and raising monies for 59 years, they are proud to have a serving membership of over 50 strong. Events they organise throughout the year, with all proceeds going to local people in need, include the joint-organisation (alongside the Farnham Lions) of the biggest event of the year, the Farnham Carnival. On average, the charity, through sheer hard work and determination raise between £50-60k per annum.  We were lucky enough to find a spare hour to sit down with Roger Hobbs, Social Secretary for the charity to ask him a few questions, so grab yourself a cuppa and read on…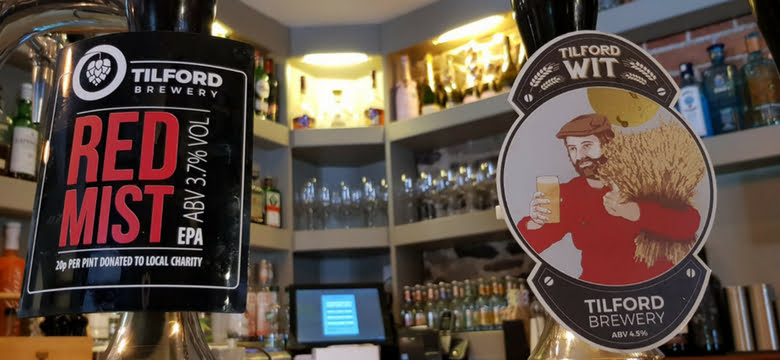 How do local people apply for help from The Hedgehogs and can people make 'recommendations' on people they think would benefit? 
The best way to apply for help is via our website. Select Contact Us and type a message, alternatively feel free to call us on any of the telephone numbers listed and we will forward you a 'Request Application' form. Most requests for help tend to come via third parties, who are aware of someone in distress…we tend to find most people are reluctant to ask for help directly. Other ways we tend to get contacted are via organisations such as home-school link workers, citizens advise bureau (CAB) and schools.  Please be rest assured that all conversations and information received will remain of utmost confidentiality.
Can you give us an example of ways the money raised is spent? 
The Hedgehogs running costs are paid for by members and friends so that all the funds raised are used solely for good causes. On average we donate over £50,000 to local causes, which generally works out to be 50+ donations per year.  The amounts per donation vary from a few pounds to several thousand pounds; these have ranged from donating £5,000 to Sailing for the Disabled at Frensham Sailing Club to allow them to purchase a dinghy for their pupils to a £21.99 child-safe stair gate for a struggling single-parent.  On average, approximately half of donations sit under £1,000 in value and the other half less than £300.
What events do you have coming up for the remains of 2018 that the public can enjoy?
Our major event season runs from March through to the end of July, with August and September being the 'holiday period or recovery time', so we are nearing the end of our big events.  We have just had The Farnham Motoring Festival, which was a great success, and to finish off we have The Bourne Show on Saturday 21st July before moving into the production and selling of the 'Love Farnham' calendars from September through to December.  We also assist other local charities within the town in providing marshalling support, such as the Farnham Round Table with their Farnham Bike Ride event (July) and their Bonfire & Fireworks (November), Weyside Rotary Club with their Pilgrims Marathon and providing backup marshalling support for Farnham Town Council events including the Gin Festival, Food Fayre, Christmas Lights switch-on and the Christmas Markets.
What ideas and events are you working on for 2019?
2019 is a big year for us, as we celebrate our 60th anniversary so a special event will be organised to celebrate the occasion. It has not yet been decided what the event will be, or where it will be held; if anybody has any ideas of venues that are good value, then please do get in touch!  Otherwise, we will be returning with our traditional annual events, which include the annual quiz night (this will be its 29th year!), the monthly 'Not Just Jazz Show' at The Maltings, Rowledge Fair, Farnham Carnival (which is jointly organised with the Farnham Lions), and finally The Bourne Show in July.  Our marquee and equipment hire seems to be ongoing throughout the year these days, which is a great revenue stream. We will be reviewing our 'Love Farnham' Calendar and working on a couple of exciting new events, which will be revealed in the near future.
Who is the longest serving Hedgehog, tell us something fun or interesting about this person? 
Our longest serving member is one of the original founder members back in 1959. He is still an active Hedgehog and he and his wife spend much of their time either at the Rural Life Museum or travelling. He is a fountain of knowledge when it comes to the history of the organisation, the 'wise man' of the group and keeps our feet firmly on the ground at times by reminding us what The Hedgehogs was originally set up to achieve.
Who decides on the 'Love Farnham' photography winners each year and how much does it cost to produce this popular calendar? 
Each year we hold a formal judging panel to judge the photographs received from both amateur and professional photographers for inclusion within the calendar, which takes place at the Farnham Town Council offices. The judges are a mix of both professional and local individuals with knowledge of the area and of photography.  The cost to produce the calendar artwork is provided to us free of charge by a local graphics business and the actual production cost for the calendars are largely met by sponsors and supporters of The Hedgehogs. We are also very proud to highlight that this is the Official Farnham Town calendar, which is endorsed by Farnham Town Council.  Calendars are available in two sizes, A3 @ £9 each and A4 @ £6 each. Last year we raised over £7,000 in sales and it continues to prove popular to our local residents and friends.
How do The Hedgehogs like to let their hair down and relax? 
Most Hedgehogs have little or no hair; but those who do, usually let it down gently and carefully! We organise regular social events during the year such as tours including the Morgan Car & BMW factory visit, a tour of TAG Farnborough airport, a Bombay Sapphire Gin Tour for example.  We also have, at local pubs, monthly lunch meetings throughout autumn and winter and during the busier months of summer, regular catch up dinner events.
We are incredibly proud and excited to be working with The Farnham Hedgehogs as we look towards their 60th anniversary in 2019. Look out for various events and money-raising initiatives throughout the year that you will be able to take part in. Don't forget, for every pint of Red Mist ale you purchase, we will donate 20p to this charity throughout the year.